Asana content calendar: A complete guide
Asana's content calendar template is good but quite simplistic. If you want something more opinionated our Asana template might be for you. Fast to get started. Easy to adapt.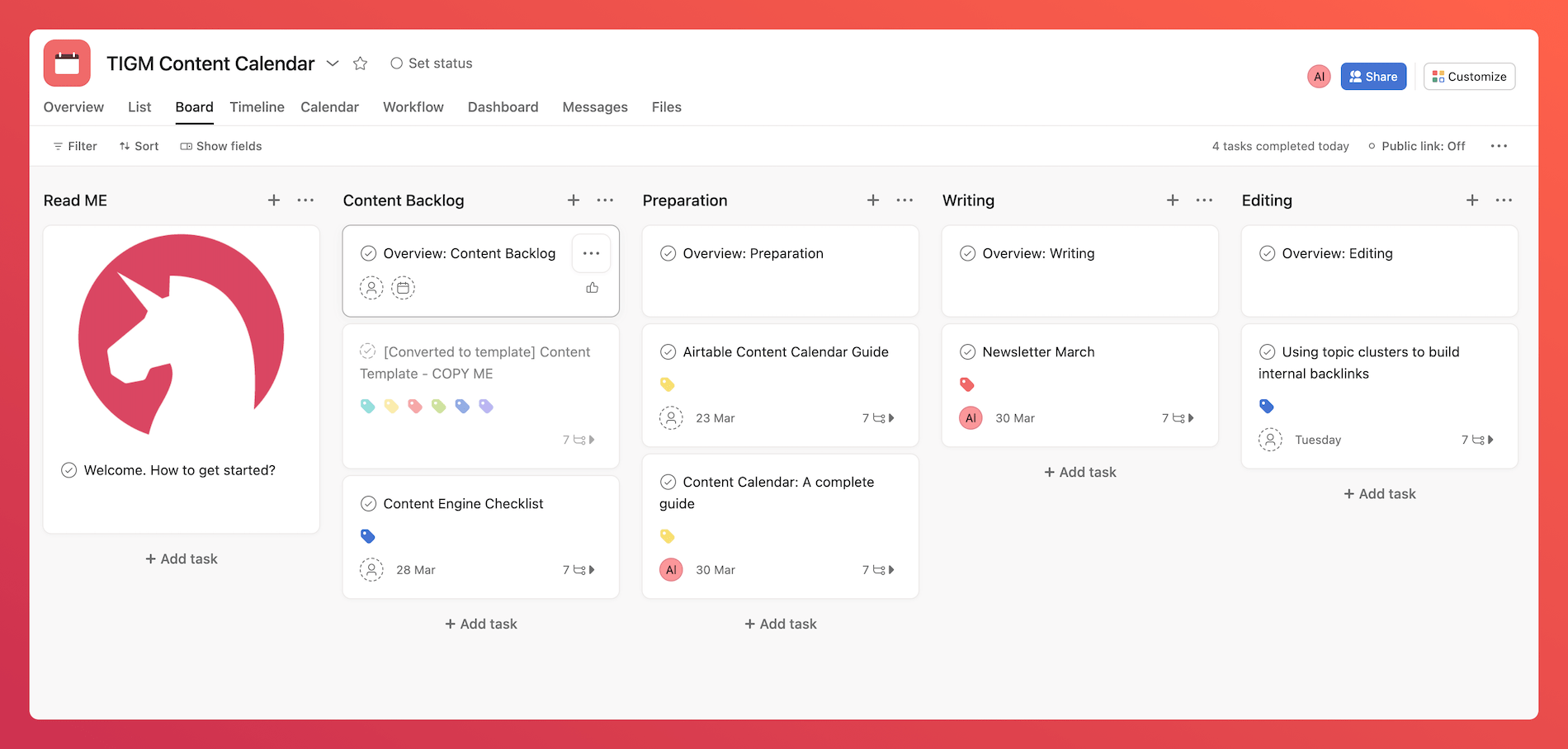 Let's take a step back. Why even use a content calendar? A content calendar is one of the most powerful tools in the belt of digital marketers. It helps keep your team accountable. And makes it visible to the rest of the organization what has happened and what will be coming up.
Using it diligently also adds "predictability". It sets the foundation for consistent content production. With the right SEO optimizations in place, this leads to predictable and consistent traffic to your pages that you can turn into predictable leads. This is the cornerstone of a content marketing strategy.
There many tools to use for your content calendar. We wrote about how to set up a content calendar with Trello. Another great tool is Asana. Asana is a project management tool that has all the needed components for a great content calendar.
Process view to model and visualize the content creation process
Calendar view to get an overview of publishing dates of different content pieces.
Collaboration and coordination features, like tasks, subtasks, task owners, due dates, etc.
Ways to templatize tasks
Automation features reduce to risk of something slipping through the cracks.
Reporting to assess process performance
Asana editorial content calendar: How to set it up?
First, model your content creation process.
Start from idea to content being written, published, and promoted. Set up "sections" on the "Board" view of your project. Each section is a content creation stage, e.g. content backlog, preparation, editing, promoting, etc. Each section shows the status of the card as it moves through the process.

Each content piece is a task on the board.
Each task will live in a section of your board. Each task will have all the necessary information to move it through the process.
Each content piece has sub-tasks to show what needs to get done
Be clear on what you expect to get done at each stage. Disassociate planning from execution. That aligns the team and removes any hesitation when it comes to doing the things.
HINT: On the free plan you can use a task as a template that includes already all subtasks for each stage. This is easy to duplicate. See how we have done this in the content calendar template.
HINT: On Premium, you can convert the task to a template or use automation rules to add subtasks when the task is moved to a different stage/section.
Use tags to define content categories, content types, etc.
Tags are great to define content types, content channels, and content funnel stages. For example, "Article", "Ebook", "TOFU", "MOFU", "Newsletter", etc. This allows you to quickly see what articles or ebooks are being worked on or planned.
Use due dates to specify when a content piece is published
Who doesn't love due dates? It enables your team to coordinate around the most urgent tasks. It ensures content keeps moving through the process efficiently.
Use the calendar view to see when content will be published.
Seeing when content will be published is great to find opportunities for co-promotion and distribution.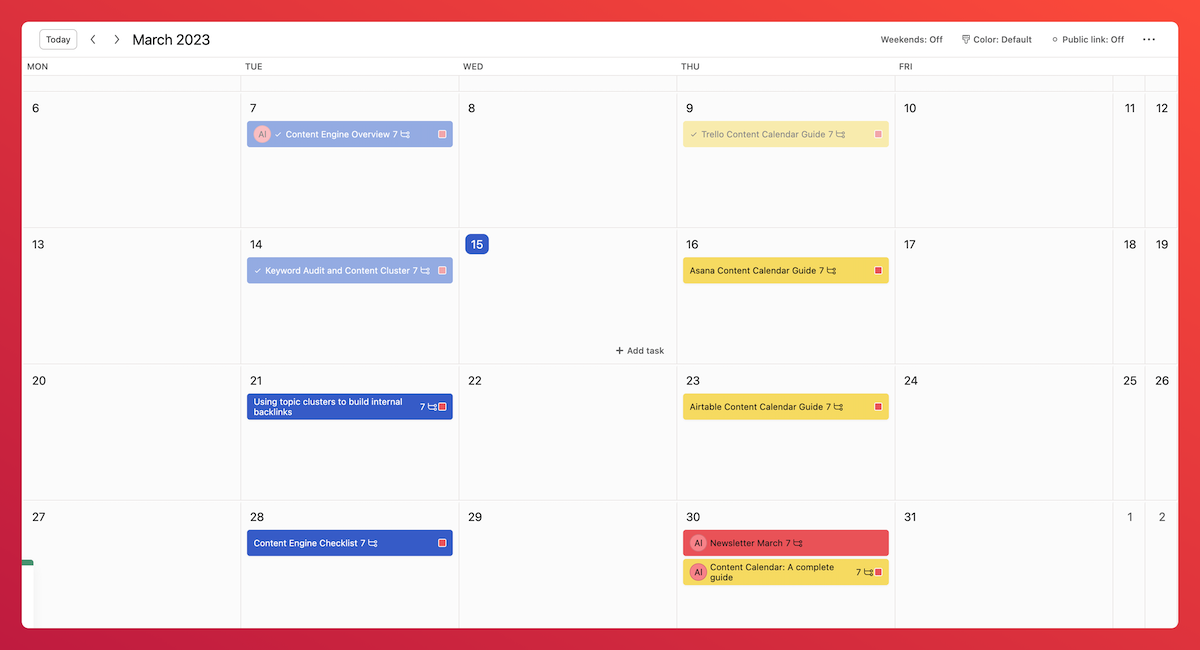 Interesting premium features:
Manage and add approvals
Add approvals at key stages in the process. For example, before moving a piece to edit it needs to be approved by the content manager.
Automation rules
Automate the creation of subtasks on a task based on the section it is moved to. Get reminders on tasks that are soon due or overdue.
Forms
Collect ideas in the content backlog through publicly available forms
Dashboard
Use the dashboard to get a quick overview of the system/process performance.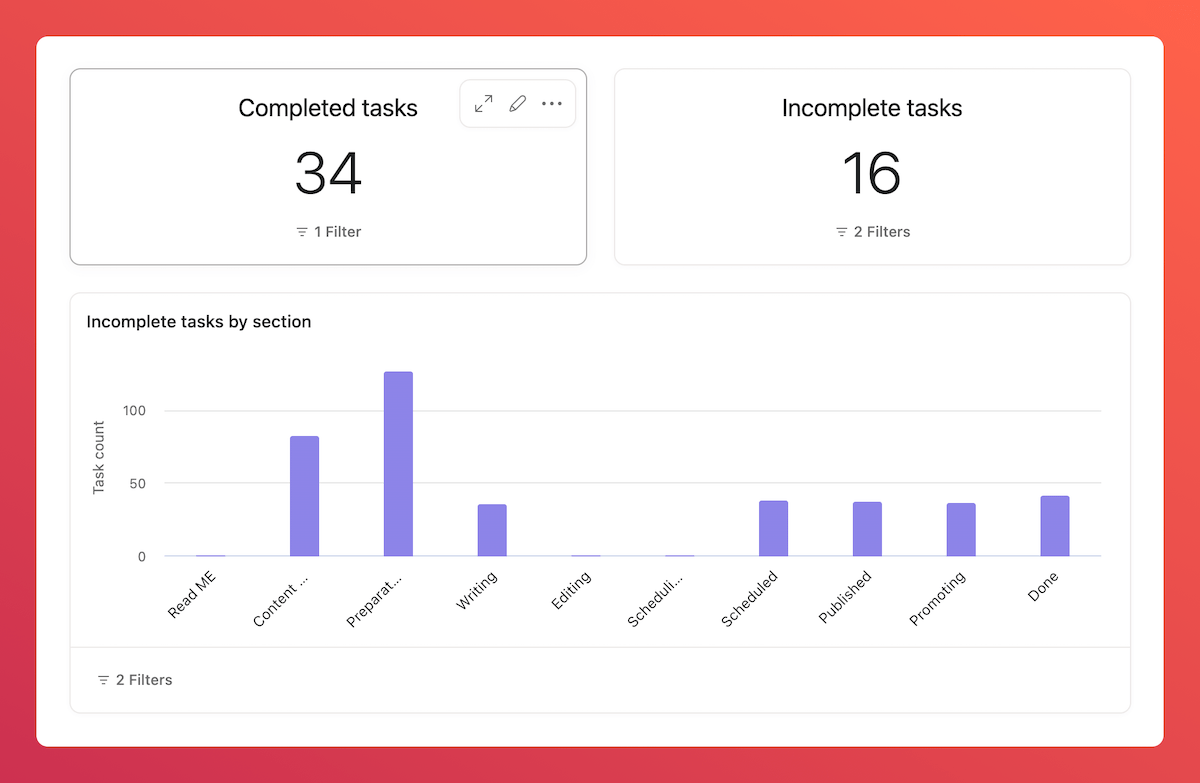 Asana editorial content calendar template
The content calendar template comes as a .csv that you can upload during project creation. This will prepopulate your board with the main content creation stages as outlined below.
Content creation process modelled in the template
Content Backlog: This is where all your content ideas go. It's a prioritized list of content ideas. If you are using Asana Premium you can use the "Form" feature to collect content ideas from stakeholders.
Preparation: This is where you get your content ready to be worked on. Write a content brief. Assign a due date. Find and identify a writer. Hand it off to writers. Giving enough context to writers reduced revisions at a later stage.
Writing: This is where content gets written. From a first draft to feedback rounds to a finished article ready for editing.
Editing: At this stage, the content gets refined and made ready for publishing. From proofreading to copyediting to SEO optimizations to adding links and so on.
Scheduling: We have the final content piece. Now we need to get it ready for publishing. This includes creating design assets, adding them to the CMS, and scheduling for publishing.
Scheduled: Everything is prepared. The content is just waiting to be published.
Published: Content is published and ready to be promoted.
Promoting: Content is actively promoted via defined channels.
Done: Time to party and celebrate yet another content piece going live.
It also includes:
A how-to-get-started guide.
A template task for content pieces, ready for you to copy and adapt.
Predefined sub-tasks on the template task for easy adaptation.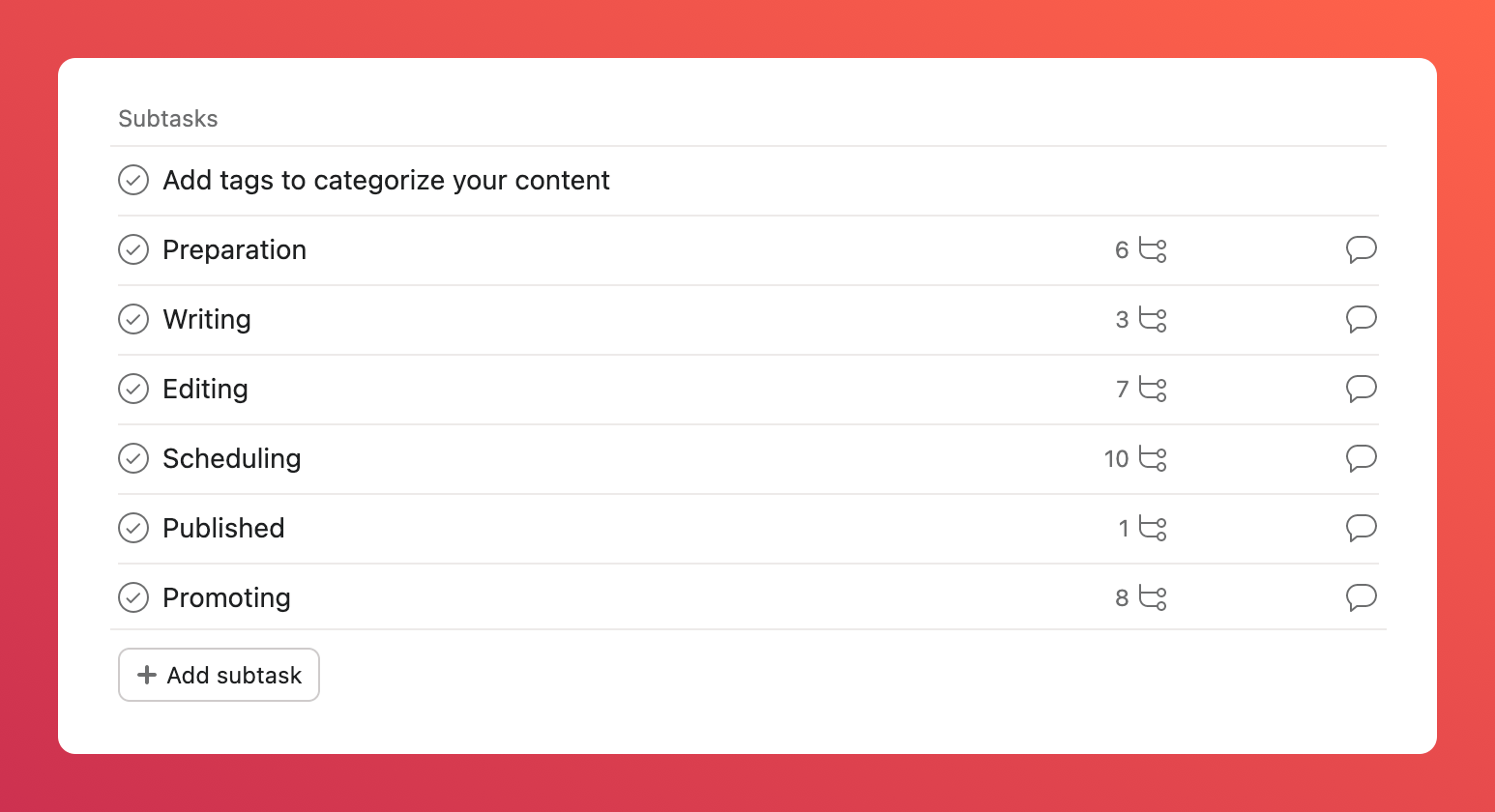 Download the Asana content calendar template
Make it yours
Add context around your content strategy to your project overview page

Provide information about your target audience
Provide links to content goals, cadence, channels, etc.
Provide playbooks to align across your team on how to best get certain tasks done. Here are a couple of resources to kick you off:

Adapt the sections to fit your workflow
Adapt the subtasks on the Template Task
Make the template your own. Have everything you need to publish great content predictably. A well-prioritized backlog with excellent content ideas relevant to your audience. Know the status of each content piece as it moves through its creation process. Get full visibility of what content will be published and when. Identify opportunities for co-promotion and distribution.
A well-organized content calendar is one of the core building blocks of a predictable and scalable content engine.
Our next free guides, playbooks, and content marketing course are coming soon.
Get updates for future guides and courses
---