Trello content calendar: A complete guide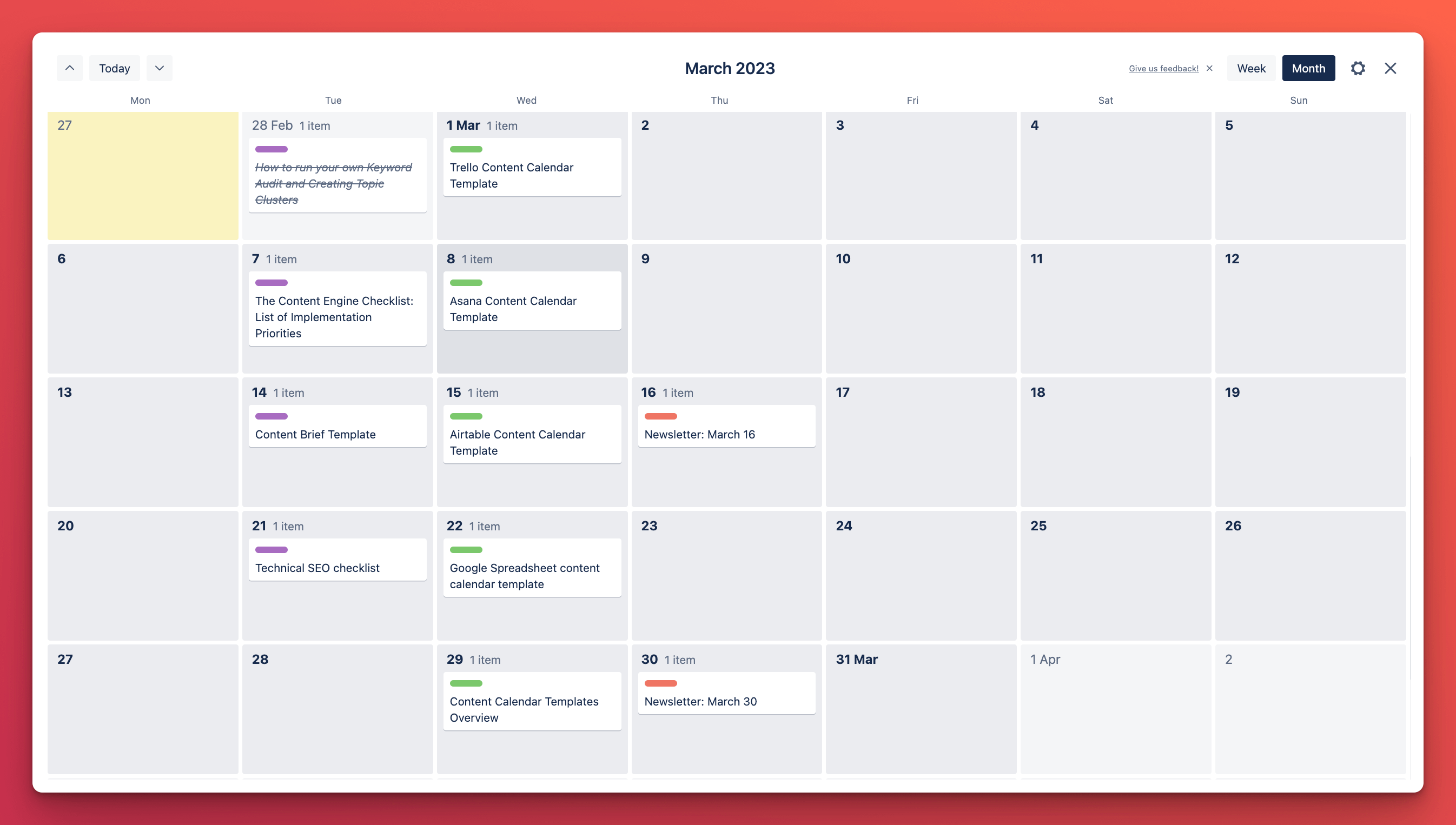 Consistently producing valuable content is the cornerstone of a content marketing strategy.
But as soon as you have many articles in your content creation process it can get messy quickly. It's hard to keep the overview. Content pieces progress at different speeds. Deadlines might need adjusting. Many different tasks need to be coordinated.
Predictability comes from acting, not reacting. Content should be planned and created with intention. This is where editorial content calendars come into play.
A content calendar allows you to plan your content and stay on top of what is happening. It helps streamline the content creation process by making it visible. Trello is a great tool to help with that. Easy to use but flexible to adapt to your workflows, even on the free version. Alternatively, you can also use tools like Asana to manage your content calendar. In this article we will focus on Trello.
Trello editorial content calendar: How to set it up?
The Kanban view: Visualize the end-to-end process of content creation
Strategic context, playbooks, and tactics
Make sure that you and your team have all the information at your fingertips for performing specific tasks as part of the content creation. That includes content goals, target audience, distribution strategy, etc. But also playbooks and tactics on how to move content from one stage to the next. For example, how to write a content brief, how to format and structure content on your CMS, or best practices for on-page SEO.
The template below comes with a handful of tactics and playbooks. These should provide a good starting ground if you are starting from scratch.
Lists to track status
Trello lists represent the status of each content piece as they move through the content creation flow.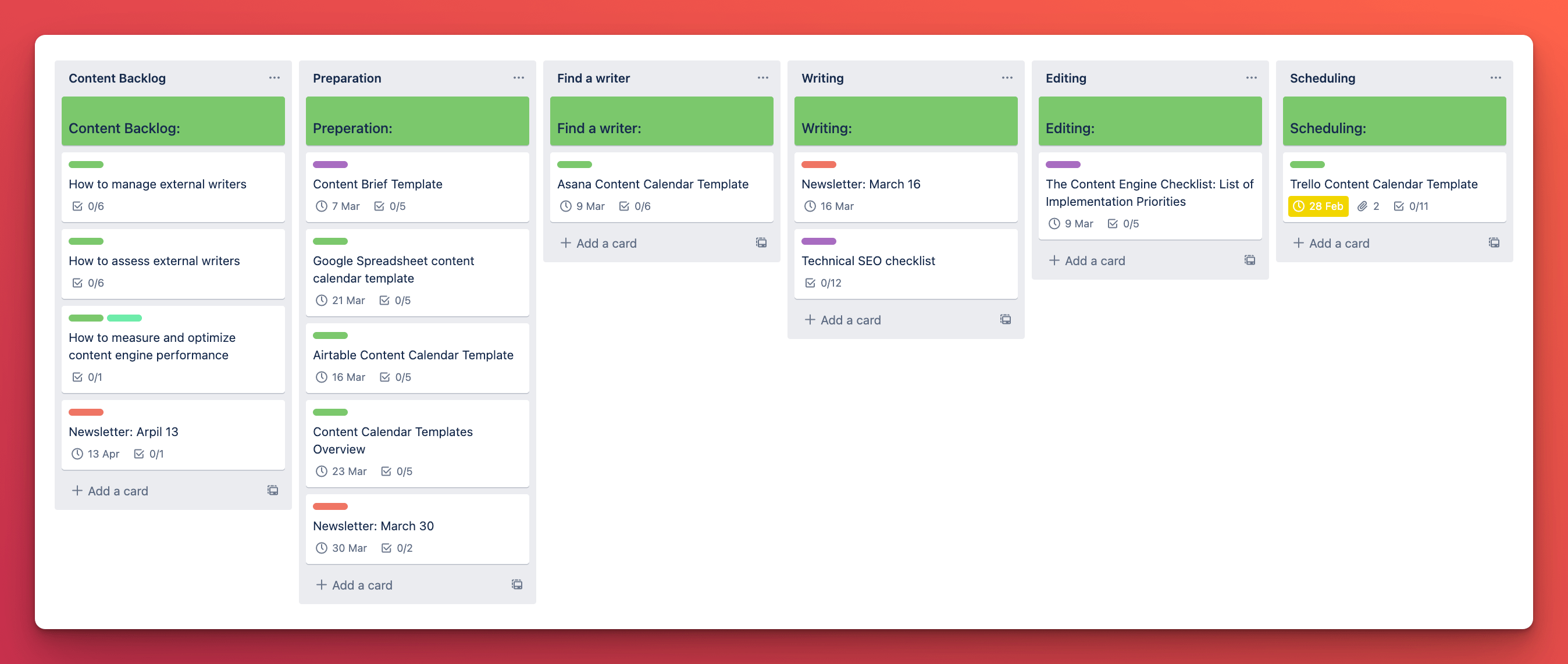 Content Backlog: This list should include all your content ideas. There are multiple sources for content ideas - the team, customers, stakeholders, gap analysis of competitors' content or your own, etc. Or you can use a keyword audit to identify topic clusters to write about. Classify content using labels, based on content type, channel, funnel stage, etc. The output of this stage: A list of content ideas that are in line with your target audience and marketing goals.

Preparation: This is all about getting your content ready for writing. Be it internal or external. A well-written content brief is a great tool to do that. This brief includes the target audience, URL, h1 headline, keywords, links, etc. You also want to set a due date for the content piece. As soon as you set a due date it will also show up on the calendar view of the board. The output of this stage: Content is ready to be handed to writers

Find a writer: Content is prepared. Let's find and assign a writer. The output of this stage: A writer is assigned and ready to start writing

Writing: Surprise - this is where the content gets written. This includes first drafts, draft reviews, and incorporating early feedback. Once the content is in a stage to be handed over for editing - proofreading, SEO optimization, etc. The output of this stage: Content that is finalized from the writer's perspective and ready for editing

Editing: The content is fairly finished. Now it is about polishing and ensuring we get the content to a state where it is ready to be published. Typically, this involves proofreading, copy editing, adding internal and external links, and on-page SEO optimizations, … The output of this stage: Content that is ready to be published

Scheduling: At this stage, you need to make the finished content ready for publishing. Content needs to be added to Content Management System, and formatted and structured correctly.
The output of this stage: Content that is scheduled for publishing

Scheduled: This column includes all content added to the CMS and waiting for the publish date.

Published: This column includes all published content pieces that are waiting to be promoted.

Promoting: In this phase, you are promoting the content. Social media promotions. Outreach to external partners for co-promotion. You can now also add backlinks to the newly published content. The output of this stage: Content that is promoted through defined channels

Done: The output of this stage: Party - Congrats you published yet another content piece.
Add Calendar Power-Up: Show what content goes live when
Activating the calendar Power-Up shows your cards on your calendar based on the due date. Giving each content piece a due date will give you a holistic view of your planned content. This allows you to be proactive in identifying opportunities for cross-promotion.
Each card is a content piece
Each card represents a content piece. Each card will live in a specific list which represents a stage in the content creation process.
This allows you also to add important links and resources to a content piece. This can be a content brief, due date, an owner, and additional meta information like content type.
Setup automation rules for automatic task creation
Based on the state of the content, you need to perform different tasks. Using checklists allows you to make this visible and clear for anyone involved. In Trello, you can use automation rules to automatically create predefined checklists.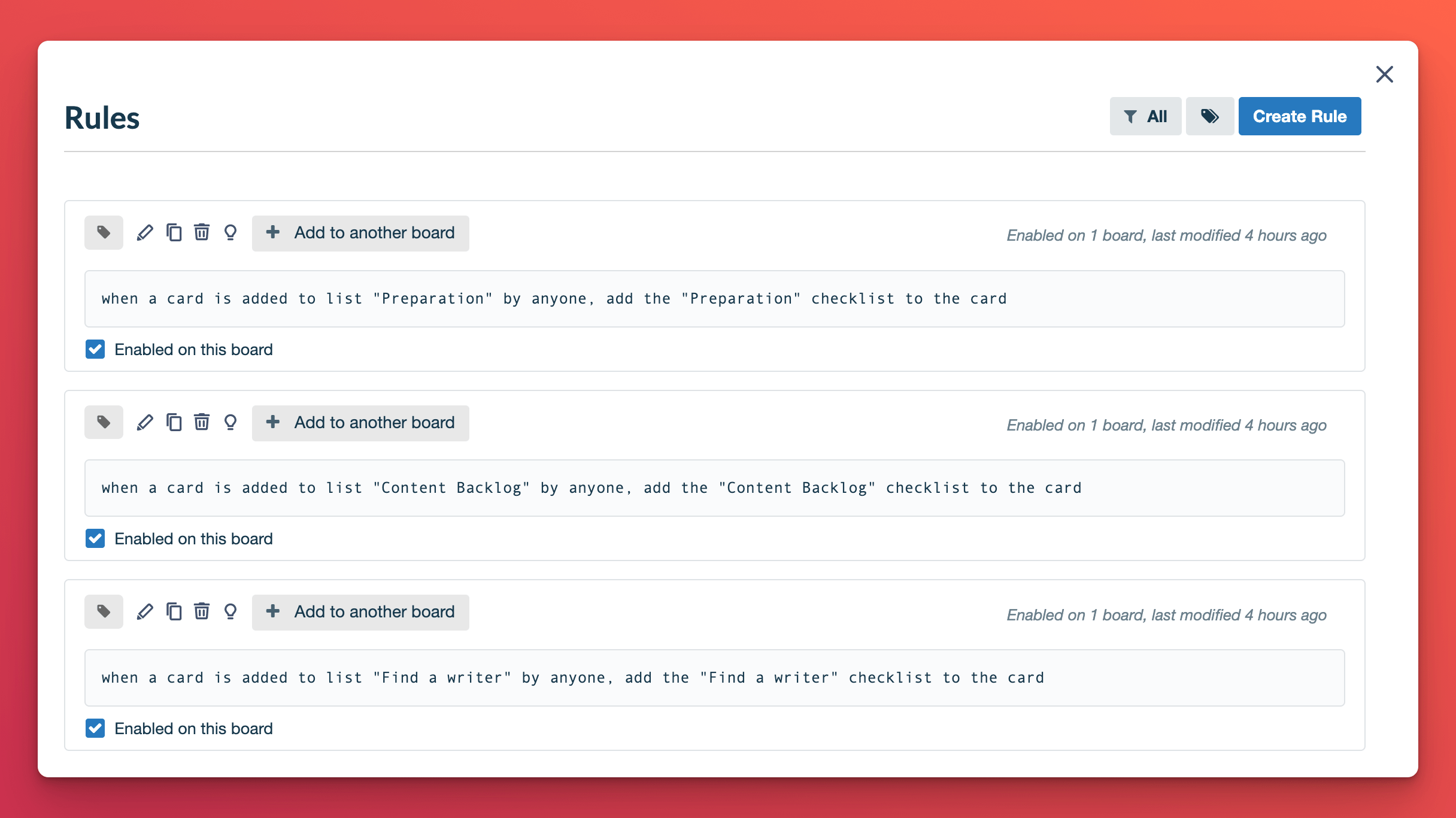 You can download a Trello content calendar template below that includes checklists for each content creation stage. Trello unfortunately does not allow to share automation rules, but you can easily set up your own using these predefined checklists.
Labels to classify content
Trello's default labels provide a great way to classify your content. This is best used to define content types, content channels, and content funnel stages. For example, "Article", "Ebook", "TOFU", "MOFU", "Newsletter", etc. This allows you to filter the board by these content categories.
Optional integrations and other useful Trello features
Slack (Chat) integration to get updates on cards into other channels your team works in
Google Drive integration to make it easy to link documents
Card repeater powerup, to allow for recurring tasks to be added to your board
Email reports
Sync of calendar view to your personal calendar
Filters to limit views on content categories or contributors
Trello editorial content calendar template
Download the content calendar template below to get started quickly. It comes with predefined labels, automation rules, checklists, playbooks, and tactics.
Content calendar template features:
Predefined workflow
Predefined playbooks ready for you to use
Checklists for each content stage ready for setup in automation rules, including instructions
Easy to adapt the template to your needs

Add your target audience, content goals, distribution strategy
Add your own playbooks and tactics
Adjust the checklist template for each stage to fit your workflow
Update the labels to represent content categories most important to you
Adjust the status/lists to fit your teams' workflows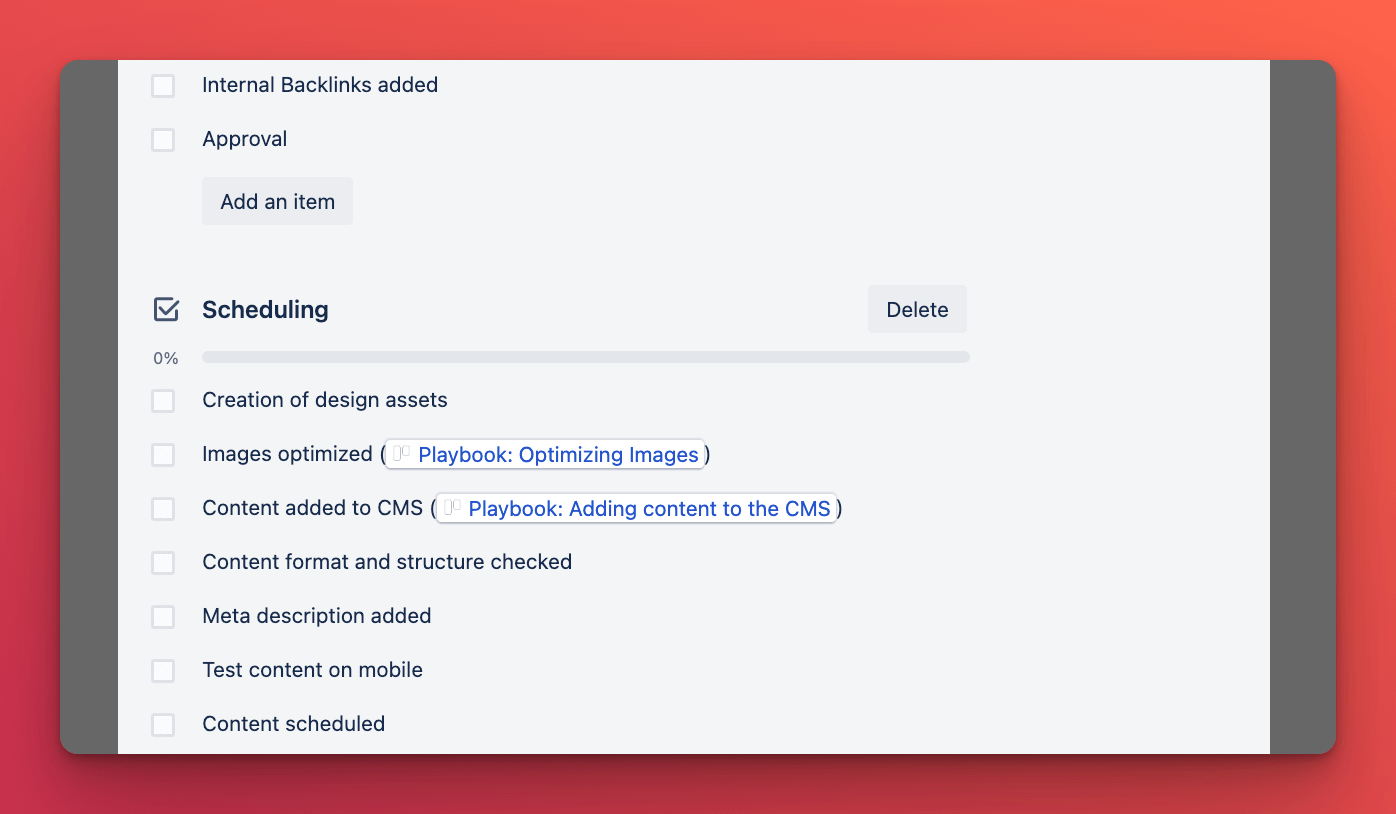 Make the template your own. Have everything you need to publish great content at your fingertips. Have a healthy backlog of relevant content. Know the status of each content piece that moves through the creation process. Get a holistic view of when all your content will be published.
A well-organized content calendar is one of the core building blocks of a predictable and scalable content engine.
Download the Trello editorial content calendar template
Our next free guides, playbooks, and content marketing course are coming soon. Sign up for updates!
Get updates for future guides and courses
---